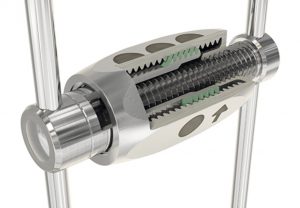 The PowerScrew is a double telescope screw for use in palatal expansion devices. It is available in five sizes (8, 10, 12, 14 and 16 mm installation size). Activation is simple, as the 8 cm long flat spanner can be quickly and safely used by the patient on the hexagonal screw.
Narrow palates need a small expansion screw. The PowerScrew therefore grows with it. By simply changing the hexagonal screw for the next biggest, the expander can continue to be used without making a new one.
The PowerScrew and its retention arms are extremely stable and can withstand the greatest forces and torques. One turn (6 surfaces) equals 1 mm expansion (0.17 mm per surface); every second surface is marked with increasing points. 
Indications
Expansion of skeletally narrow upper jaws
Contraindications
Age-dependent, ossified palatal expansion
Field of Application
Expanders with splints or Bands
Hybrid Expanders
Purely bone-borne expanders
Advantages
Small body, high stability
Changeable hexagonal nut
Easy self activation by the patient with precisely fitting flat spanner
More comfort due to rounded design
Invisible in the mouth